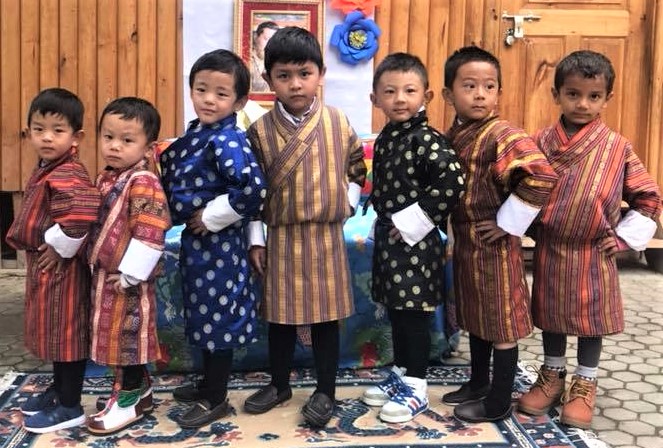 We are thrilled to announce our newest initiative in Bhutan!
A collaboration between the Global Foundation For Children With Hearing Loss, the Kingdom of Bhutan, United Nations Technology Bank, and Medtronic Labs, the multi-year Hear, Listen and Speak program will strengthen ear and hearing care services for children 0-14 in Bhutan.
The program has two parts. The first focuses on establishing the full Continuum of Care (early identification, family education and support, timely fitting of hearing technology, and access to locally based trained professionals) that is essential for Bhutanese babies and children 0-6 years of age who are deaf or hard of hearing to listen and talk. The Global Foundation is leading the implementation of this sub-program.
The second sub-program initiates screening and hearing care services for Bhutanese children 7-14 with typical hearing to ensure they continue to have healthy ears as they grow older.
Foundational skills in listening and speaking are established only in the first six years of a person's life. The negative impact of untreated hearing loss on the acquisition of listening and spoken language in young children is irreversible and permanent. Hence, there is a short and finite window of time to react. This program will provide the needed technologies, raise community awareness, and strengthen professional capacity to address gaps in responding to urgent needs in pediatric hearing care in the country.
Medtronic Labs will be providing hearing screening technology. The UN Technology Bank is funding new audiology equipment and a new ear mold lab. Our supporters at GN ReSound will be donating high quality digital hearing aids and technical support. The Global Foundation will help Bhutan leverage these technical contributions, build professional expertise, and implement the elements in the Continuum of Care so that Bhutanese babies and children 0-6 years of age who are deaf or hard of hearing can listen, talk, and thrive.
A special event took place in Thimphu, Bhutan to formally announce the start of our program. Please visit the Bhutan page on our website to view video from the ceremony and to learn more about the program.